Connect on Facebook
Longevity Fitness Clubs
Promote Your Page Too
Not Quite Boot Camp
Fri Apr 09, 2010 5:14 pm by Drew
I don't know that anyone will read this, but I'm going to say it anyway...
Starting Sunday, I'm getting off my butt and doing what I'm supposed to. For the past three weeks, I've been getting up early and going to the gym, but I haven't followed it up with cardio and diet. (Cardio - no excuse. Diet - its been a bit hectic)
So I'm making a public commitment to do better for at least the next …
[
Full reading
]
Comments: 3
FITNESS EXPO & BOOT CAMP
Sat Jan 16, 2010 8:02 pm by Bonnie
FITNESS EXPO AT THE MALL
BOOT CAMP AT 8:00AM IN THE NORTH LAWN AT THE MALL
MALL WALK WORKSHOP & MALL WALK AT 9:00AM
FITNESS EXPO 10AM-3PM
EVERYONE'S INVITED. Anyone who wants to work the booth, participate in group demonstrations, etc just let Bonnie know!

Comments: 1
Come Run With Us
Fri Jan 15, 2010 7:54 pm by Drew
Marcus and I did the Walt Disney World half marathon on January 9. We both had done a half marathon before, but never in such a large group.
The run was great. It started outside EPCOT, ran over Disney roads, then through the Magic Kingdom (including running through Cinderella's castle), and back to EPCOT.
While it was fun, it would have been better in two ways: 1. not be so stinking cold …
[
Full reading
]
Comments: 10
Boot Camp is Over. Now What?
Fri Apr 09, 2010 3:53 pm by Drew
One of the worst things about boot camp is when it ends. Yes, it is wonderful to not have people yelling at you to "Hold Plank!!" for an hour, but what do you do after that in order to not lose the progress you made?
Let's get some ideas, people!
Comments: 3
A Shot of Motivation for those in need
Fri Apr 09, 2010 5:04 pm by Drew
A couple thoughts to motivate you in the hard times.
If you quit when things get hard, you will never realize exactly what you can do and how far you can go.
The saying goes "Pain is weakness leaving the body." I'd like to add that pain is also a way to remember that you were built for more than eating and sitting. I remember some of the days that were the hardest and I HATED …
[
Full reading
]
Comments: 0
Confession Corner
Fri Apr 09, 2010 4:01 pm by Drew
Okay, so I did boot camp last year. Three of them, in fact. Since then... let's just say I fell off the wagon and haven't tried to catch it till recently.
I went from 270 (1/09) to 237 (8/09), mostly because of boot camp. However, after August, I have done very little, except run occassionally. I'm back around 255. I CONFESS!!
I know that I am not the only one. Someone else 'fess up. …
[
Full reading
]
Comments: 0
First Leg day at maxxx
Tue Jan 19, 2010 10:09 pm by TrainerSteve
I just wanted to tell you guys how amazed I was at how well you all did today. Even though some of you got sick... you dug in deep and kept going. Jen W, I want you to regroup and come back tomorrow. You just need to eat more than celery. Clamydia, no more spaghetti dinners. You are all crazy. I really had to dig deep to come up with this crazy workout and you guys dominated it. Rock on …
[
Full reading
]
Comments: 0
DIET TALK FEB 13
Sat Jan 16, 2010 8:00 pm by Bonnie
Second and final diet talk at 10am at Longevity with Bonnie. We will be going over inbodies and diet troubleshooting. Bring your journals and inbodies.
Comments: 0
DIET TALK JAN 23
Sat Jan 16, 2010 7:59 pm by Bonnie
Comments: 0

Below, is what an inbody looks like. Here are some helpful tips on how to read your inbody and what to look for:
1. Weight -
In the top right corner of section one you will see your weight and again at the top of section two.
2. Lean Mass
- Below weight, in the second section, you will see your lean body mass. This is how many pounds of muscle you have. You will compare your next reading to see how much lean mass you lose/gain.
3. Fat Mass
- Just below your lean mass you will see your fat mass. This is how many pounds of fat you have. This section is very important as you will use this section to see how much fat you lose. (don't worry about the water weight at this time)
4. Body Fat Percentage
- This is located in the 3rd section marked Obesity Diagnosis. The fist line shows you how much mass you take up but doesn't reflect if fat or muscle, just overall size for your height. The percentage of body fat is reflected by muscle and fat. As you gain muscle, your body fat percentage goes down. As you lose body fat, it goes down. As you gain muscle and lose body fat it REALLY goes down.
5. Lean Mass Distribution
- The 4th section are graphs that reflect your lean mass. This shows where you are carrying lean mass. This shows what areas you need to build. If your lean mass is over in one section, that is good. Heavier people normally have more lean mass because they are carrying their weight around. If you are 50-100 or more overweight, it is likely you'll lose some of the muscle as your body won't need it anymore. We want to retain as much as possible, but it's not the end of the world if you lose some. Lighter people need to preserve muscle mass as much as they can. Increasing protein is the only way to gain muscle or to avoid losing it.
6. Basil Metabolic Rate
- This is the bottom right section. (here it is marked 1470) This is how many calories this person burns at rest. This has little to do with how many calories you burn, but it can give us an idea of what your progress should be if you are taking in 1200 calories a day. This number is reflected by lean mass. The more lean mass you have, the higher the number. Heavier people burn more calories while thin, shorter people burn fewer calories (it takes less calories to run them). Think of it like a car. It takes more to run a big excursion than it does a Honda Civic.
7. Your goals
- At the bottom of the page where it is marked weight control it will tell you your current weight, how much weight it wants you to lose or gain and where it wants you to make changes. For instance, it may tell you it wants you to lose 10lbs of fat but it wants you to gain 4lbs of muscle so the weight control would say 6lbs.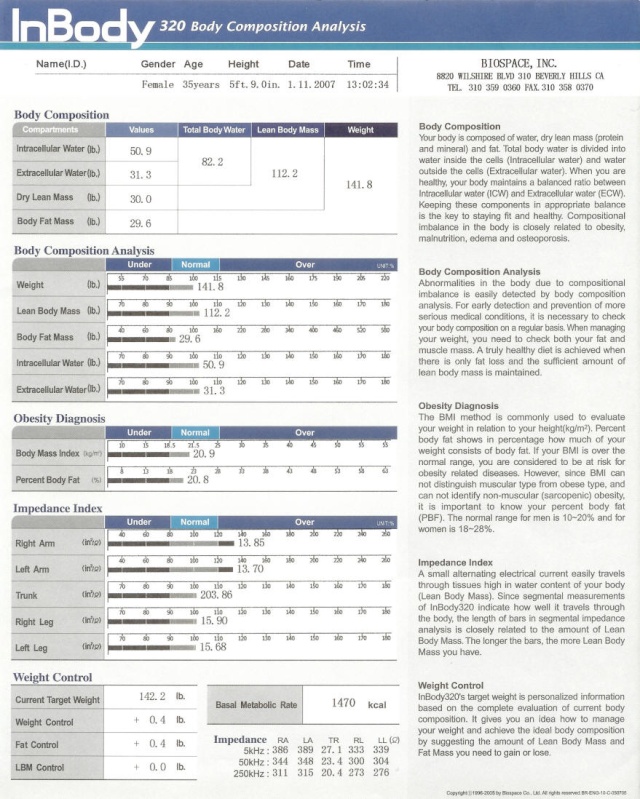 ---
Permissions in this forum:
You
cannot
reply to topics in this forum